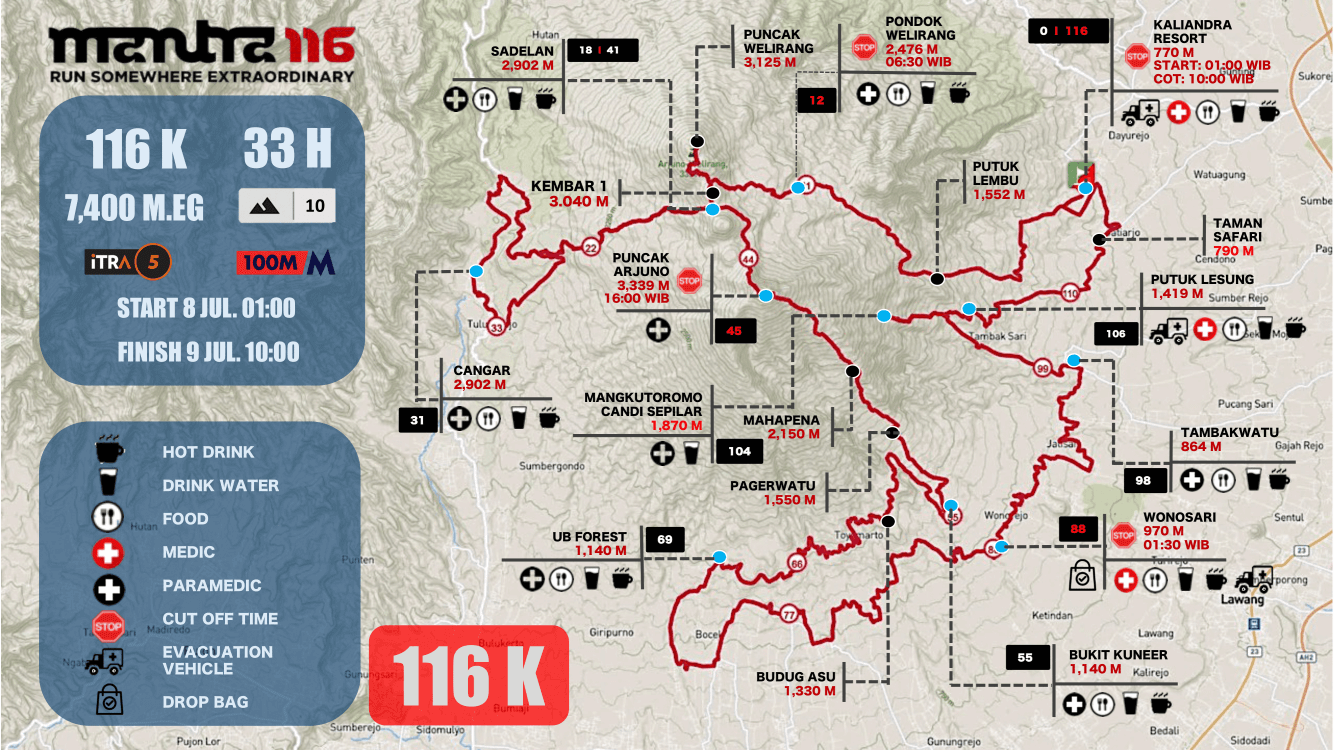 Category 116K
Needless to say, this is the hardcore ultra trail race climbing Arjuno-Welirang from 4 hiking points. Cruising along the cloud above 3,000 m altitude.
This race is only for you! The tough soul, the strong bone, and the fearless gut. 116 Kilometer, 7,500 meter vertical distance to climb on the top of majestically beautiful Arjuno-Welirang mountains.
It is tough, it is difficult, it is not for ordinary peoples.
This race will create an unforgetable moment. A mix of surge of adrenalin rush and flow of endorphin. And at the same time, physically and mentally drainage…
This race will take you climbing Arjuno-Welirang 2.5 times from the bottom. You will explore this mountains with diversity of terrain, vegetation and a sudden change of climate.
There are few track changes this year compared to what was last year. There will no slippery, bushy Mahapena-Budug Asu, no crawl, slippery Candi Telih in UB Forest, no torturing, sadistic uphill Wonorejo-Mahapena. But…there will be Mahapena-Bukit Kuneer, and going up to Budug Asu with different path. This is about half uphill of Mahapena. And at the end, if you think the change of the route is too friendly, wait till you going uphill to Candi Sepilar at the end of the route. It will add some seasoning to the soup….
We will apply a tight safety rules to all of you. You MUST going down from top of Arjuno daytime ONLY. We will catch you at the top of Arjuno if you crossing time just before dark. There will be NO ONE allowed cruising down Arjuno at the dark.
There is another safety measure and protocol for you. Zoning. Red, Yellow and Green zoning base on altitude and potential risk to indicate how safety protocol will be implemented for your safety in this category.
Arjuno-Welirang in this category is really tough from nature perspective, apart from its beauty. Our job is to make sure you do your race safely, helping you finishing the race and returned back to your loved one safely.
Good luck with your training program. Make sure it is a serious one for this race!
Race Course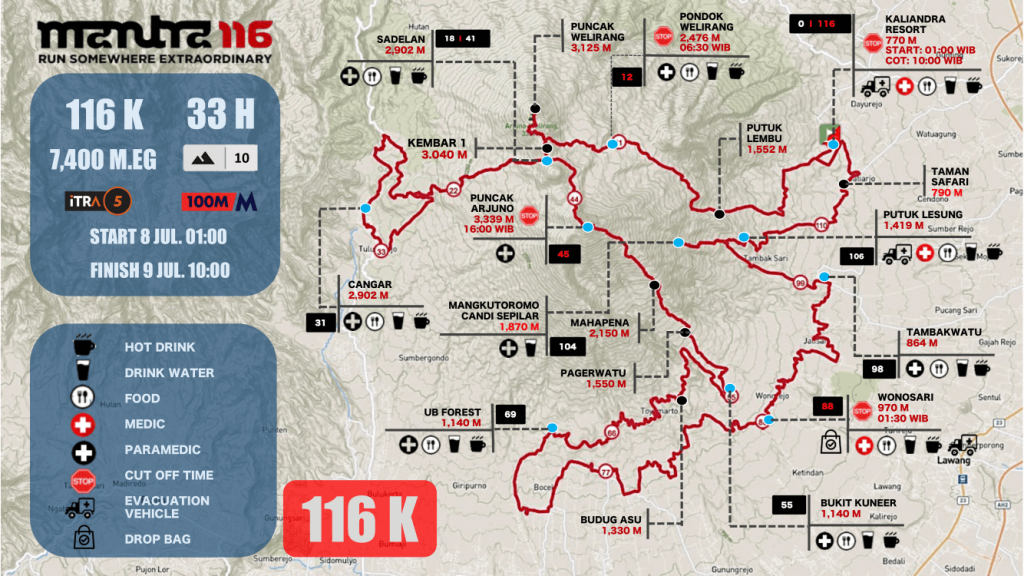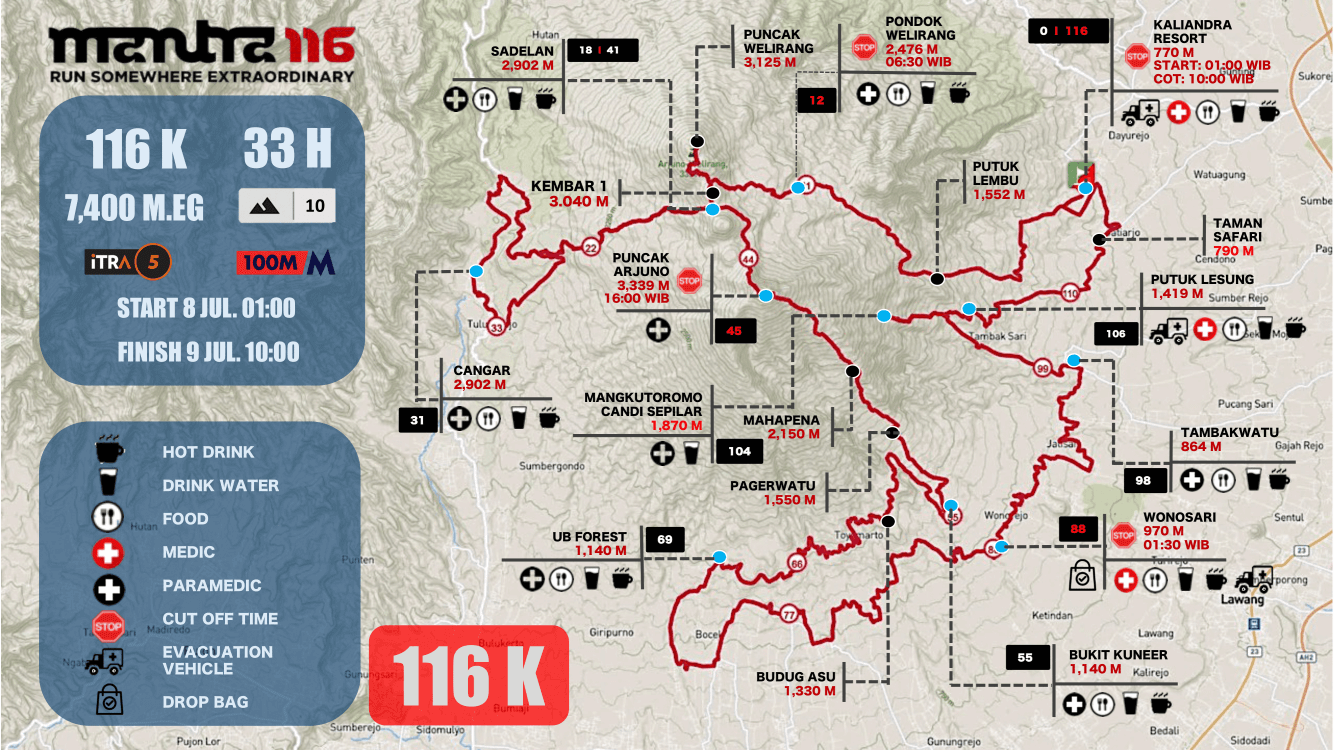 Elevation Profile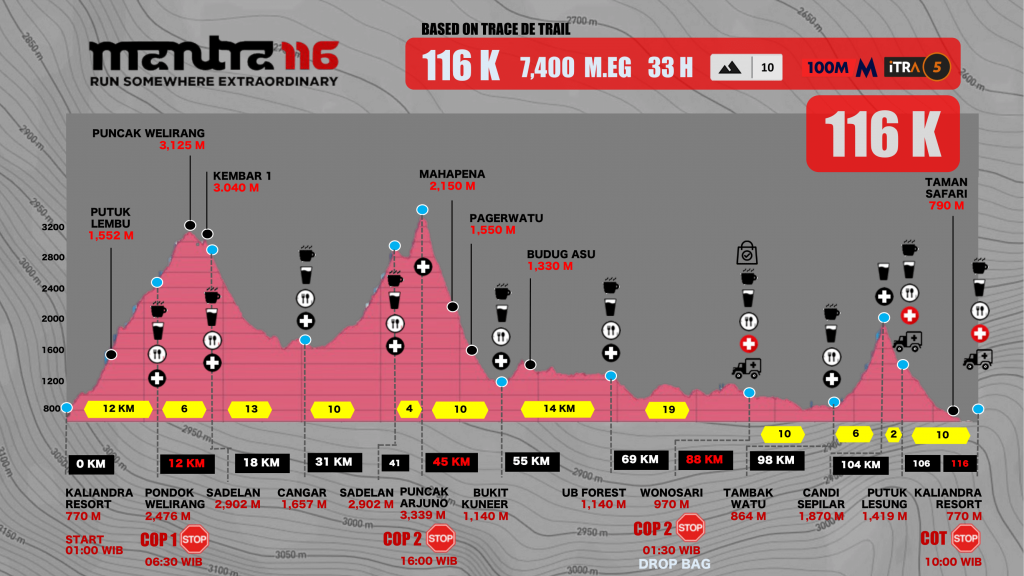 Timesheet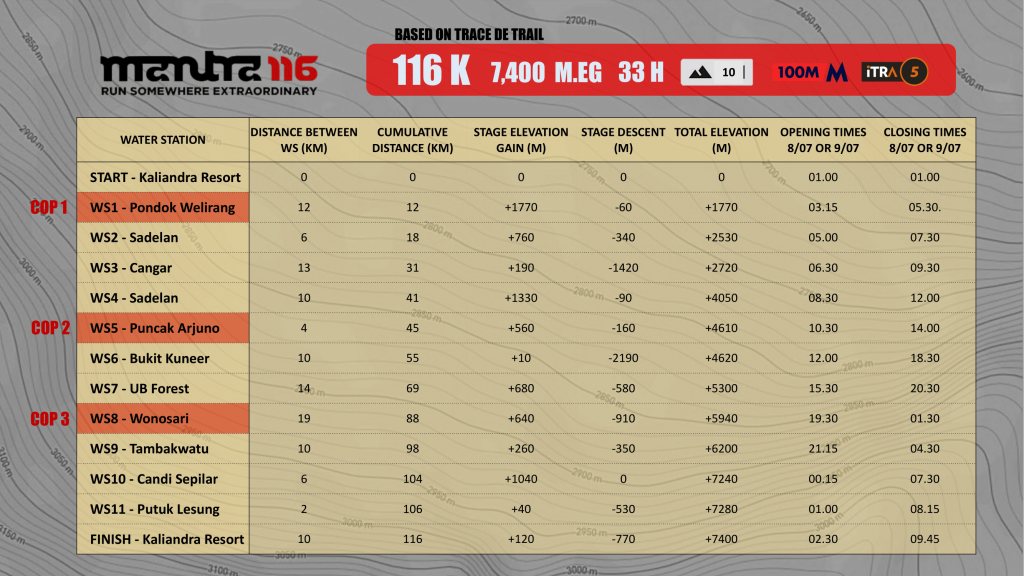 GPX File